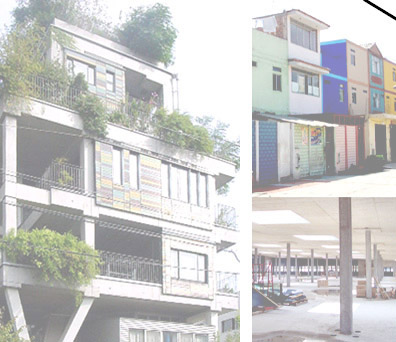 STUDENT COMPETITION
The international student competition has concluded and we are pleased to recognize the winners and their submissions on the AWARDS PAGE which includes links to their submitted work.

The competition organizers would like to thank the jury for their comments and insights through two separate rounds of jurying, and also the competition sponsers who provided support for the awards and travel funding that is available to student winners electing to attend the conference.
Finally, a sincere thanks goes to the students who participated in competition. We hope to exhibit up to half of the entries we received during the conference and we hope that some of the students are able to join us for the conference event in October.
JURY:

Shinichi Chikazumi
- Architect, Shu-Koh-Sha Architectural and Urban Design Studio, Tokyo
Prof. Shigeru Aoki
- Architect, Tokyo Metropolitan University
Ulpu Tiuri
- Architect, Ulpu Tiuri Architects, Helsinki
Jiasheng Bao
- Architect, Professor of Architecture, Nanjing University, China
Jaehoon Lee
- PhD, Architect, Professor; Head of Dept. of Architecture College of Architecture Dankook University, Korea
John Waugh
- Architect, Ellerbe Becket Architects, Minneapolis
Renee Y. Chow
- Associate Professor of Architecture and the Eva Li Chair in Design Ethics, Department of Architecture, University of California Berkeley; Principal of Studio URBIS
Gong, Kai
- Professor, Head of Architectural Department; Southeast University, Nanjing, P.R. China
SUBMISSION:
DEADLINE FOR ENTRIES : August 1, 2008

The competition is supported by the following sponsors:
Kieran Timberlake Associates - www.kierantimberlake.com
Bensonwood Homes - www.bensonwood.com
Ellerbe Becket - www.ellerbebecket.com
Anshen+Allen - www.anshen.com
Shepley Bulfinch Richardson and Abbott Architects - www.sbra.com
Venturi Scott Brown and Associates - www.vsba.com
Kajima USA, Inc. - www.kajimausa.com
Institute for Digital Fabrication, Ball State Univ - www.bsu.edu/imade/
CERES, Ball State Univ - www.bsu.edu/ceres/
Building Futures Institute, Ball State Univ - www.bsu.edu/bfi
CONFERENCE ORGANIZING COMMITTEE:
: Dr. Stephen Kendall, Conference Chair; Professor of Architecture, Ball State University, Joint Coordinator, CIB W104
: Michael Gibson, Instructor in Architecture, Ball State University, Conference Co-Chair
: Dr. Jia Beisi, Associate Professor of Architecture, University of Hong King, Joint Coordinator, CIB W104
: Dr. Kazunobu Minami, Professor of Architecture, Shibaura Institute of Technology, Tokyo; Joint Coordinator, CIB W104
Contact openarch@bsu.edu to request further information or to report website problems